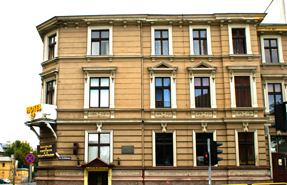 Hotel is located in the heart of Torun, near the gothic Old Town - 600 meters from the monument of Nicolaus Copernicus.

There is a stunning view of the Old Town which is listed among UNESCO World Cultural and Natural Heritage sites out the hotel's windows.
Building was built in the nineteenth century by the eminent physician - Leon Szuman. Szuman's house was always the mainstay of Polishness. It was a refuge for artists coming to toruń for their performances. In 1996, this beautiful Art Nouveau building was handed Life Long Learning Centre. Grand opening of the hotel took place in October 2001.
Have a look at our website. We hope the photos and virtual tours will introduce you the atmosphere of the hotel.
The hotel has its own monitored parking, a bar, 2 conference rooms (one air-conditioned) and 17 rooms equipped with TV sets with SAT, telephone and wireless internet access.